Bed-ups by Chisty List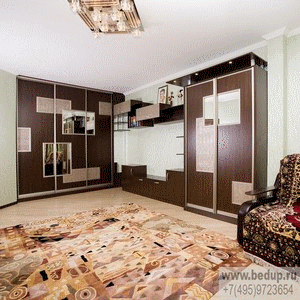 Furniture outlet " Chisty List " (Moscow) offers you a folding bed-up with gas spring mechanisms.
We have produced folding bed-ups since 2002. During this period we gained great experience in design, manufacturing and installation of the folding bed-ups.
We manufacture custom-designed production for a wide range of buyers. Our bed-ups, sliding-door wardrobes and cabinet furniture can be placed in children's rooms, bedrooms, halls as well as in mansards more.
Guarantee of quality
The safety of the bed-up is guaranteed by the design and by the use of gas springs of the world-famous German manufacturer. These springs are used for lifting heavy machines cabs. That's why the unfolding and folding of the bed-up built in the closet won't present a difficulty. The warranty for the folding bed-up is 2 years. Though we do not leave our clients without attention even after after the the end of the warranty period.
The winding mechanism of the (folding) bed-up is designed for smooth lifting and lowering the bed with orthopedic mattress with the width from 90 up to 160 cm. The weight of the bed can vary not only because of the type of mattress, but also because of the facade of the decoration of the bed (mirror, chipboard, aluminium, etc.). To solve this task we use springs with various nominal power the mechanism of witch being generic at the same time.
An important feature of this mechanism is provided by the safe operation of the gas springs. Due to this fact the bed can easily raised and lowered not only by adults but also by children.
The price in Moscow varies from 15000 rubles and above. We relate ourselves to the average price range. However, we guarantee quality, interesting constructive decisions and an original design. That is why we do not offer cheap solutions.
More information about the prices of bed-ups you can find calling: +7 (495) 972 36 54